LinkedIn Live Replay + Q&A
Machine learning can be applied to innovate products, automate processes, and improve customer experiences. While AI is often hyped as a replacement for people, in reality, ML models can get confused by exceptions, edge cases, and unusual data, and when that happens, a person — sometimes called a human in the loop (HITL) — must get involved.
Watch a replay of our discussion with Dean Abbott, Chief Data Scientist at SmarterHQ, and learn:
Why it pays to have people in the loop during ML model deployment
Tips for deploying people more strategically to ease ML development challenges
How to design a HITL approach for better model outcomes
WATCH THE WEBINAR
Tell us about yourself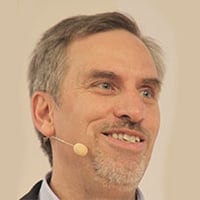 Dean Abbott
Presenter
Dean Abbott is Co-Founder and Chief Data Scientist of SmarterHQ (a Wunderkind Company) and President of Abbott Analytics. He wrote the book Applied Predictive Analytics. He has a bachelor's degree in the mathematics of computation from Rensselaer and a master's degree in applied mathematics from the University of Virginia.