Our Shield Essentials offering focuses on workforce security practices and implements fundamental network security policies. All client work is accessed via a secure, CloudFactory browser and all worker computers have antivirus installed. Each worker must sign our remote work policy and NDAs that cover all client work and all work is monitored digitally by CloudFactory team members trained in our security policies.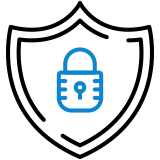 The Shield Network offering includes everything in Essentials and adds layers of workforce and network security. All client and workforce connectivity is conducted via our Secure Network Environment and leverages the benefits of Advanced Threat Protection (ATP).
ATP provides a combination of security services including:
AntiMalware: Inspects internet traffic for malicious domains and malicious files.
Intrusion Prevention: Performs deep packet inspection and advanced behavioral analysis for malicious data patterns. Includes network anomaly detection which monitors for anomalies across all traffic types and uses behavioural analysis to determine zero day attacks.
IP Whitelisting and Web Filtering: Ensures network access is targeted only to the services that are relevant to the task.

The Shield Endpoint offering incorporates everything included in Shield Essentials and Network and adds another level of protection. All client work is conducted on CloudFactory provisioned workstations.
Each workstation is centrally managed by a suite of security services to ensure active threat monitoring and alignment with vendor release schedules for security patching and antivirus updates.
All workstations have AES256 local disk encryption enabled. Encryption across all workstations is centrally managed to ensure that all local data is encrypted at rest.
We make use of a leading edge vulnerability management solution to offer vulnerability scanning and assessments on request.
Workstations are equipped with the necessary controls to completely restrict the physical and non-physical removal of data. For example, media player, file transfer services, mail clients and a host of productivity services can all be restricted on a per host basis and CloudFactory can prevent access to a number of application types based on certain requirements.